If the Boston Bruins lose tonight I might take them out the back and beat them all with a very big stick.
Chances are though if I got close enough to any of them to beat them with a stick I'd start hyperventilating and forget the whole plan.
But seriously?! Let's talk about hockey teams.
A team playing at their skill level. The Ottawa Senators. Good interesting fast exciting hockey to listen to. (don't ask me what they're like to watch). There's scoring. Which means yelling and happy and cheering that keeps me interested! And dany heatley! Dork parade on tsn! The top line. Not the Dazzle. Not the Cash Line. The Dork line. Heatley's Gap. Spezza's.. head. Alfreddson's hair. It's like the side show at the circus! Don't you love them!
A team playing above their skill level. The Carolina Hurricanes are kicking some serious ass. Except for that whole being eaten alive by Ilya Kovalchuk (not to be outdone by best friend El Dorkus!) and the rest of the thrashers 9 - 0 the Canes have had their best start since…. God knows (well Camille knows). And they also get points for having the cutest wall papers!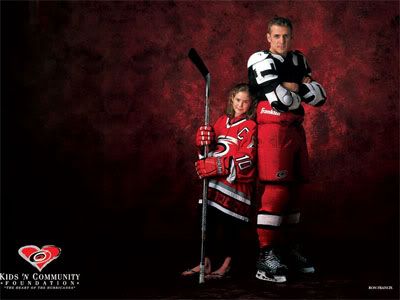 Also Congratulations to #6 Bret Hedican and wife, Kristi, on the birth of their second daughter, Emma, born Wednesday night! And they also have the best team motto. Here to play. Here to Stay. If that's not a big screw you to all those who believe southern states shouldn't have hockey, then I don't know what is.
And finally, a team that plays below their skill level, and is currently about 10 feet under and pilling on the dirt is my Boston Bruins. Frustration might be too lose a term to describe them at the moment, more like complete confusion about how they're managing to go downhill so fast? Time to adjust is over.
Joe Thornton needs to be a captain. NOW. It might be time for Patrice Bergeron to be Patrice Bergeron (as Jaci put it). For Hal Gil to hit some people. For Nick Boynton to do the same thing, or if not atleast to do something wickedly defensive to inspire the team. To give Hannu Toivonen the chance he deserves and Raycroft the chance to get his head back to where it needs to be.
In more positive bruins related note the Manchester (something paper. All praise Google Alerts) reports that Jonathan Girard is back from Quebec and skating the P!Bruins. I'm hoping and praying he does come back.
Last weekend was my club's (Rocky Raider's For Life. It's like Rebels for Life but without as many tattoos or Dion Phaneuf) presentation day. We sit around on plastic chairs on a basketball court (or even on the barrier seats) and get awards and eat pizza. Topped out with the best save percentages 65 for seniors and 74 for intermediates for the whole season. Considering I also faced 1400 plus shots for (sorry moment there to be yelled at my mum for not putting a dish away) the season I'm happy. They've all been playing longer and I kicked the other goalie's asses!
Also in a last note Congratulations to the Saint Louis Blues! As someone else put it (in words I can not beat) the redwing's need STD tests because god knows what the Blues have after having opened their legs so much this season. It's called Five Hole.
Good night!
Music I'm loving - The new Liz Phair single "Everything to Me", The Trew's "Not Ready to Go" and "Defying Gravity" from the musical Wicked.
Oh and in a last note. Sean Avery. SHUT THE FUCK UP BITCH! Serious. Grade A example of someone who's being hit a few to many times.