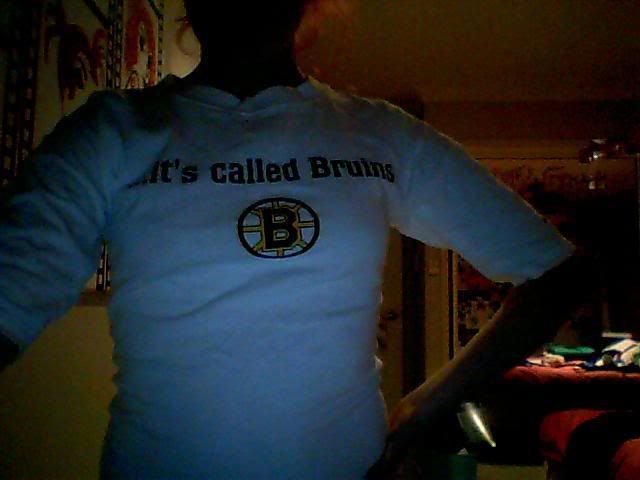 The showed the Toronto Maple Leafs playing the Rangers today and I was oh so very happy. I love the leafs, Matt Stajan being the first hockey player (in his rookie season) I <3'd. Then it became Stevie Y but Matty always had a special place in my affections.
During the game though, I found my "it's called bruins" (which seemingly is now a synonym for sucktastic and frustrating. Holla to the pittsburgh fans, who have been so strong during .. them. Does this mean we're going to get a Fleury, Malkin, Crosby or Staal?) shirt that
Heather
got given for free at a bruins game, and sent to me, and I shrunk it. I wear the shirt to sleep in occasionally but I really wanted to wear it out more as I <3 it and want to show my bruins pride to the world (even though).
So that's the shirt now! All cute and fitted!
Back to the leafs game.
High points for me.
- Hal Gill Actually looks like a tree. They showed him standing next to Andy raycroft and i swear they were both as wide. Huge shoulders! It's like a skating tree.
- Andy Ray on fire is awesome. The left? pad save on.. I think Shanahan Was just nuts. The positioning, the reflexes was so good.
-Henrik Lundqvist is also a pleasure to watch when he's on fire.
- Watching Hal Gill take on Jagr, I could see the almost brute strength he was using to keep him off the puck, but none of it seemed blatantly Dirty. I don't think he has a reputation as that either, just one big guy!
- Lex Steen Jeff O'Neill and Matt Stajan, while they didn't score, impressed me on the power play.
-Nick Antropov needs NOT to skate with his head down.
Man sleep time.